Are you looking for yourself and your family of high-quality undemanding, but at the same time luxurious and extremely comfortable hot tub with perfect relaxation and hydromassage options at a fair price?
Then the ROYAL SPA hot tubs are developed just for you.
Take a look at the sophisticated design and overall processing of these whirlpools. Even the layman's eyes will find that it is spacious perfectly shaped, oriented to your maximum comfort.
Try these great whirlpools to see for yourself that quality, unpretentiousness and luxury as much as possible for all ROYAL SPA hot tubs.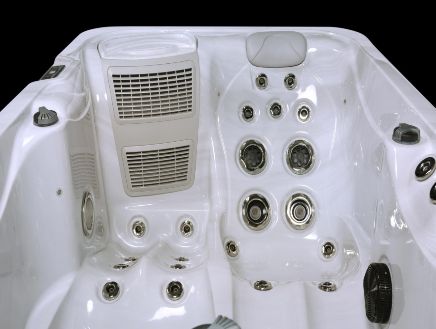 We have tuned the ULTIMATE hot tubs series to the limit of maximum comfort that you can desire from a hot tub. Each model in this model series is produced in three variants.
PREMIUM – EXCELLENT – UNIQUE
Even in the PREMIUM variant, you will find the full equipment in JoySound®, AddClean®, ClearLight®, DirCon®, IsoSafe® and many other unique benefits of ROYAL SPA hot tubs.
The EXCELLENT variant is enriched with Arctic Insulation Packs NordIsol® and IsoShield®  for even more energy-efficient spa use. JoySound® audio system in this excellent variant uses exclusively built-in vibration speakers.
ROYAL SPA hot tubs in the UNIQUE variant are currently the top of our offer and we are convinced that they are the top options in the world of hot tubs at all. This is the Excellent version enriched with a unique package of RemOn® personnel control and MaxTherapy® maximum hydrotherapy.
Your unique comfort and luxury is ensured by all the unique benefits that ROYAL SPA hot tubs offer.
But that is far from all.
These unique whirlpools have an absolutely sophisticated installation, control and management of massages in individual positions that are unique and inimitable with our exclusive MaxTherapy® system.
For even greater comfort, we have equipped all UNIQUE models with RemOn® personal controls.
Every ROYAL SPA hot tubs in this model range in every variant is unique in its own way.
Whichever model you choose from ROYAL SPA hot tubs, be sure you  always get the same quality, luxury and long life.
The differences are only in size and equipment.
Our ROYAL SPA – ULTIMATE hot tubs
UNIQUE BENEFITS OF ROYAL SPA HOT TUBS
MasivFrame® – Stable and exceptionally strong supporting structure made of solid pressure-stained wood  perfectly resists all vibrations and ranks hot tubs ROYAL SPA to the world's most stable hot tubs.
SafeBase® – All ROYAL SPA hot tubs models are safe from the floor protected and isolated against water, rodents and insects strong bathtub made of high quality ABS plastic, which is characterized high toughness and hardness.
DuraCab® – ROYAL SPA hot tubs are thoroughly protected around the perimeter solid and high quality cabinet made of durable UV stable material with long life.
IsoSafe® – Thermal insulation of shell hot tubs ROYAL SPA high density insulating foam with graphite in combination with reflective insulating foil and quality thermo cover closes the heat in the hot tub and saves money
NordIsol® – Arctic thermal insulation protects and thoroughly insulates not only the shell, but also all the water pipes, the floor also the cladding, which absolutely minimizes energy demands of hot tubs ROYAL SPA.
IsoShield® – Above standard massive thermo cover in medium thickness up to 15 cm makes together with Arctic insulation NordIsol® from ROYAL SPA hot tubs the most economical hot tubs on the market.
SolidShell® – Extremely strong and durable shells ROYAL SPA hot tubs
moreover, it is reinforced in seating positions, giving them an exceptional sense of strength.

ErgoStyle®  – Professionally designed ergonomics of everybody position in the hot tubs ROYAL SPA guarantees that everyone can find
for sure with confidence it will find its most comfortable place.
HydroDynamic® –  Exceptionally strong high-flow hydromassage jets along with our sophisticated installation and quality pumps they provide ROYAL SPA hot tubs in all models unforgettable relaxation and therapeutic hydromassage.
MaxTherapy® – This extraordinary feature of irreplaceable hydromassage with maximum relaxation and healing effect enables literally intuitive feeling control of the intensity and time of the massage to the places of your body, exactly where you need it. This timeless management of the intensity and time of the massage to individual parts of the body are a unique solution in each ROYAL SPA hot tub in UNIQUE variant.
PowerFlo® – Quiet, powerful and economical electronically controlled two-speed massage pumps ensure in every moment the best possible relaxing or therapeutic hydromassage in all hot tubs ROYAL SPA.

RainLight® – The central rainbow LED lighting will light up any ROYAL SPA hot tub a pleasant, soothing light of color of your choice or all colors can blend seamlessly.
CornLight ® – Subtle color LED illumination of the outer corners of the cabinet enhances the external beauty of the ROYAL SPA hot tubs.
CircLight® –  Amazing, unique all-round outdoor multicolored LED lighting for selected ROYAL SPA hot tubs.
ClearLight® –  Clear, soothing full-frame multi-colored underwater LED illumination and backlight elements together with the central RainLight®
the basis of effective chromatotherapy in selected hot tubs ROYAL SPA.
RimaFlo® – The soothing, decorative individually controlled color backlit Roman fountains are part of most ROYAL SPA hot tub models.
CrannyFlo® – Decorative, soothing, independently controlled and colorfully lit waterfall can be found in almost every ROYAL SPA hot tub, in some models, even in combination with RimaFlo®
JoySound® – Built-in audio system with Bluetooth and subwoofer
is also an integral part of most ROYAL SPA hot tub models.

DirCon® – The most reliable hot tubs management and control system ROYAL SPA has long been verified by millions of users all over the
world is made up of the most powerful control unit and intuitive touch control panel.
RemOn® – All for absolute comfort, selected models of ROYAL SPA whirlpools are equipped with personal controls, so you can turn on your favorite hydromassage directly from the comfort of your place in hot tub.
SecuStep® – Long-term durability and stable quality is thanks to our expertise practical experience, years of proven production and assembly
using state-of-the-art components and quality material characteristic
for all models of ROYAL SPA hot tubs.
LongPro+® – Long-term durability and stable quality is thanks to our expertise practical experience, years of proven production and assembly
using state-of-the-art components and quality material characteristic for all models of ROYAL SPA hot tubs.
PuritSpa® – Powerful and efficient program-controlled filtration in collaboration with a productive ozonator with a dosing injector the best foundation of clean and healthy water in the ROYAL SPA hot tubs.
AddClean® – ROYAL SPA filter system with AddClean® function recognizes the use of the hot tub and triggers an extra filtration process outside standardly set filter cycles, thus all impurities, greases and the like is filtered from the water immediately after use of the hot tub.
NoChlor® – Healthy and clean water is the basis of perfect pleasures and experiences in hot tub. Of course, therefore, all hot tubs ROYAL SPA use exclusively a chlorine-free water care system.